The Joint Admission Medical Program (JAMP) is a Texas specific program created by the Texas Legislature to support and encourage highly qualified, economically disadvantaged students pursuing medical education within Texas Medical Schools. Rice students interested in applying for the JAMP program are strongly recommended to review JAMP's Eligibility Criteria before beginning the application process. Entering freshmen interested in JAMP should contact Christine Martinez (cmartinez@rice.edu), Rice University's JAMP Program Coordinator, for more information. You can schedule an appointment to meet with Christine by calling 713-348-4060. Please review the information below before your meeting.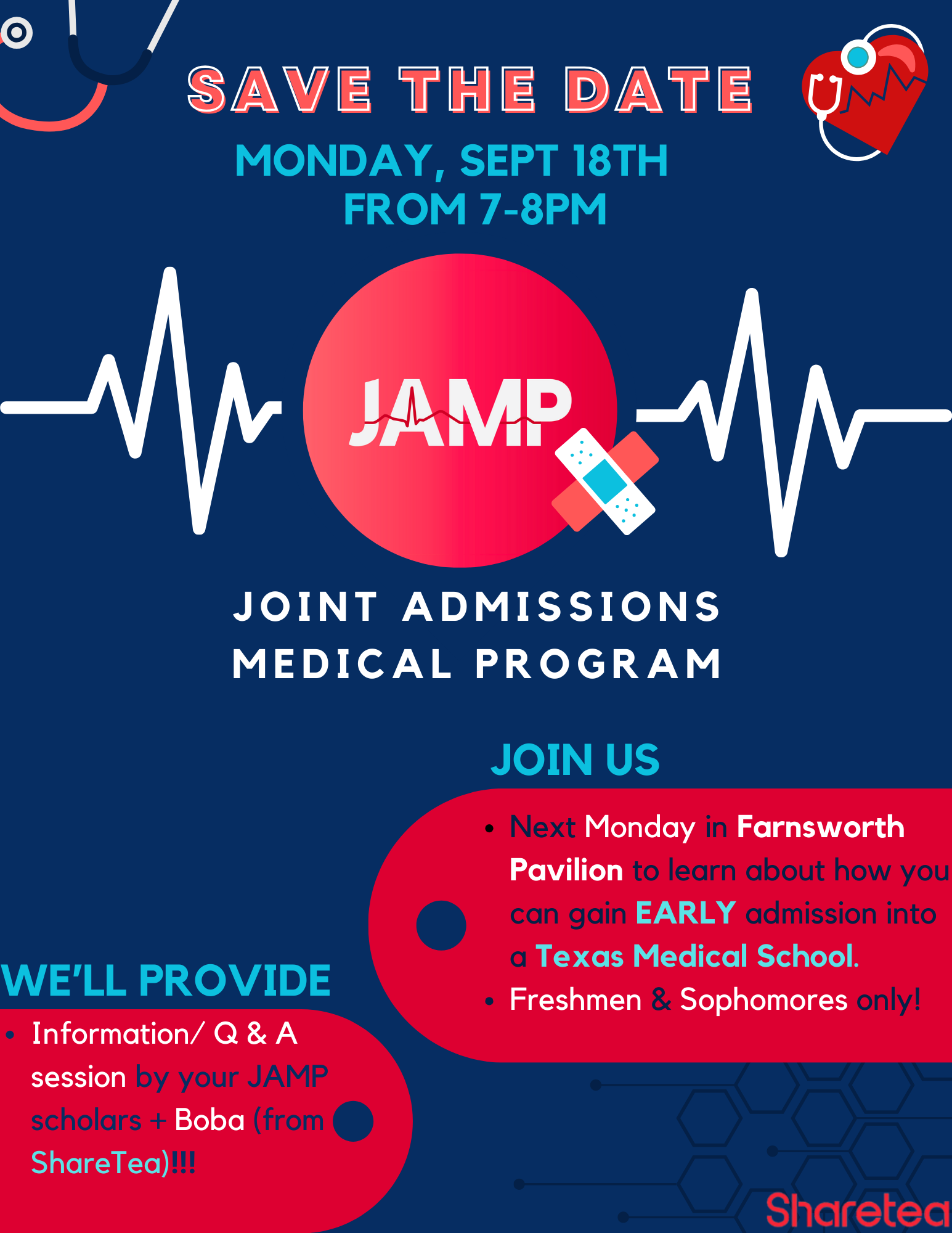 Rice's JAMP Applicant Timeline (At a Glance)
DATE
ITEM

May 1, 2023

JAMP Application Opens here

June 1, 2023 -
September 26, 2023

Schedule an appointment with the JAMP Coordinator at the Office of Academic Advising - this appointment is meant for the JAMP advisor to have an introductory conversation about the JAMP program and for the JAMP applicant to ask their questions.

September 27, 2023

Submit Required Application Materials to the JAMP Coordinator:

JAMP - Authorization to Release Educational Records Form - embedded in JAMP online application
Student Aid Reports
JAMP Pre-Application Appointment Form
High School Paragraph
Personal Statement (draft is fine)
Curriculum Vitae (CV)

Week of September 27, 2023

Schedule an interview with Rice's JAMP Coordinator

October 2-13 2023

Interviews

October 31, 2023 by 5 PM CT

Deadline to submit application to JAMP
|
Overview of JAMP Benefits*
Support through undergraduate stipends
Placement into JAMP summer internship experiences
Hands-on experience through clinical enrichment opportunities
Comprehensive, multi-phase MCAT preparation program
Personal and professional development through dedicated mentoring
Guaranteed admission to a Texas medical school if all criteria are met
Scholarships to attend medical school
Overview of Program Eligibility
A 3.25 grade point average overall and 3.25 grade point average in Biology/Chemistry/Physics/Math (BCPM) courses is recommended; preference will be given to those achieving higher scores. Grades from all courses completed before final selection meeting will be considered.
Twenty-seven (27) semester hours of undergraduate credit must be completed in the first year of college after graduation from high school at an institution of higher education (no more than three semester hours of AP credit can be counted towards the 27 hour requirement).
Must complete two semesters of Organic Chemistry (with associated lab) prior to attending the first summer program internship.
Be a Texas resident for purposes of tuition under Subchapter B, Chapter 54 of the Texas Education Code. For more information, please read this website.
Be a US citizen or a permanent resident.
* These benefits are not always guaranteed for every application cycle. To review current benefits, program eligibility and requirements, and participating medical schools, visit the JAMP website for updated information.
JAMP Ambassadors
If you would like to learn more about the JAMP program through the lens of current JAMP participants, it is encouraged you contact the following students.
Class of 2025:
Information for Accepted JAMP Students
Spring of Sophomore Year
Sign an agreement with the JAMP Council
Continue to complete Pre-Med required courses
Maintain a minimum of 3.25 GPA overall and in science at Rice
Meet with Rice's JAMP coordinator, at least once a month
Plan a time frame to study and take the MCAT
Complete JAMP's first summer internship
Fall of Junior Year
Meet with Rice's JAMP coordinator monthly
Attend an Open File Information Session, hosted by the Office of Academic Advising
Plan a time frame to study and take the MCAT
Maintain a minimum 3.25 GPA overall and in science at Rice
Spring of Junior Year
Submit the required documents outlined in the Open File Information Session
Sign up for a pre-application appointment with the Office of Academic Advising
Sign up for a mock medical school interview through the Rice Pre-Medical Society, Center for Career Development, or Center for Academic and Professional Communication
Take the MCAT by May of your junior year
Satisfy admission requirements of the medical schools, including an interview with the Admission Committee
Begin your application (starting on May 1st) on the TMDSAS website
Apply for admission to a participating medical school before the beginning of senior year
Maintain a minimum 3.25 GPA overall and in science at Rice
Complete JAMP's second summer internship